Currently the wait list is 2-3 weeks
Frequently asked questions
Q Who or what is the life log project about?
Would you have liked to know more about the generations of people that went before you? For instance, what do you know about your grand parents? or even their parents? What were they like? What did they worry about? What made them happy? Where did they live, who did they love and how did they get around? The Life Log Project is really about you and the generations to come. I think a lot of people that get involved with family history are asking themselves these sorts of questions too.
Q How did it start?
The project started as a result of me recording interviews because I was interested in the amazing lives that so called "ordinary" people had led. When both my parents and grandparents died within a space of a few years I realised that I had missed an opportunity. I had so many questions to ask, many of them quite routine and ordinary that I could no longer get answers for. I thought, if I feel like this, wouldn't it be great to help other people in a way that would prevent them from feeling like this.
Q. How will I know when you have enough information when you are recording?
The interviewer will ask questions from time to time, however for the most part you drive the process. Our well trained and very experienced interviewers will guide the process. We recommend you record your story, and sooner rather than later. We know of some great tools and apps to help you do that. However what the Life Log Project offers is a personalised service that will steer and guide the process. Pretty much everyone we have recorded has at some stage said, well thats it, Im done, only to be guided and prompted through the best bits.
Q. I could do this for free myself, couldn't I?
Absolutely you could, and we suggest that if you do not use our personalised services, you do at least have a crack at it yourself. You can either buy a good quality microphone and record onto your computer or you can even do it with your iphone. There is also a free app that helps you do that. The difference with using our Life Log service is that you will be guided by a trained interviewer, with no family ties and no emotional tie to the story other than to our Life Log process. In fact if you are interested, we train people to do this and run 4 week courses (one night a week) from time to time. Drop me an email and let me know if you are interested in going onto our wait list for the next course.
Q . Is there anything I need to do before the interview?
Soon after the Life Log agreement is signed we will be in touch to make an appointment (usually within 24 hours) and send you a preparatory information package. This package contains a question pack that will allow you to prepare adequately. We suggest you sit down and have a think about the process after you have responded to the question pack. We want you to make the most of the recording opportunity.
Q. What happens if I cry?
Telling your story can be a very emotional experience. Our interviewers are well trained to keep the story flowing and the information coming. There is nothing wrong with displaying your emotion at times like these. In fact it helps people that will be listening later to understand the importance and emotional weight of the moment. So please, have no fear about showing your emotions.
Q. What happens after the interview?
The audio file is taken away and lightly edited (tidied up a little) and then digitised which enables it to be played on any iPod, iPad, or computer. You can have as many additional copies made as you wish at a cost of $25 per transfer with a range of presentation options. (flash drive, DVD)
Q What happens to the original file?
Unless otherwise instructed it will be wiped off our system within a fortnight of delivery. We like to keep a copy for a short period of time (a fortnight only) because often people, having heard it, would like to order extra copies.
Q. How much does it cost?
The standard Life Log audio recording service is $385 +gst. That price includes a two hour recording allowance with an experienced trained interviewer using the latest digital equipment, focussed on allowing you to tell your story. If you require more time with the interviewer that will be charged at $90 per half- hour. Our experience says that for most people, two hours is well and truly long enough. The interviewer will indicate to you when there is a few minutes left of the allotted time so that you can make the decision about finishing up quickly or extending the process. We are not going to be churlish about a few minutes. The interview is then edited and the Life Log production elements added.
Additionally there is the photo log, which is your personal photos (up to 350 of them) digitised and presented as a visual backdrop to your Life Log. It finishes up looking much like a movie using still photos. This service requires a few different processes and takes up to a month to complete and starts at $2450.00
Q, But Im not special, I haven't really done anything amazing, wont this be a bit boring?
The best way to answer this is to imagine yourself listening to one of your great great aunts talking to you at the moment. She would probably say the same thing, but I will bet you would be thrilled to sit down and listen to her talk about her life, and the choices she made and her family etc etc. I have recorded dozens of life logs and I can promise you that every single one of them has made me go WOW! and I'm not even family.
By most standards people may say that my dear grandmother didn't do anything super special in her life, however, she remembered when Kingsford-Smith flew over Newcastle on his maiden epic voyage. She was there to see the first plane in the sky. She also lived the first five years of her marriage in a tent in the great depression. She had a remarkable life indeed. I know there must have been a hundred amazing stories she could have told if she had been guided through the process, and imagine what we would now know about her. She was such a lovely warm woman. I kick myself for not thinking of this twenty years ago.
Q. I have a special aunt that would be perfect for this, can I buy it for her? What happens if I buy it for her and she doesn't want to do it?
No problem, we will gladly refund your purchase price. We do ask however that we have an opportunity to chat with her over the phone or in person. Sometimes it is just a matter of making people feel comfortable with the process.
Q Can I have the recording as a transcript?
We don't do this, but I can put you in touch with a transcription service.
Q I have a bunch of photos, can you include them somehow?
We do have a special product that allows up to 350 photos to be placed over the top of the Life Log which then turns the log into a slide show movie. The cost varies depending on how long the photos take to scan. But is all based on $90 an hour production time. This photolog starts at $2450.00. I can also show you how you can do this yourself by taking the Life Log and making that the soundtrack.
Q I have things I want only my family to hear, can that be done?
A. The recording of the life log is completely private. The content of your life log is not shared with anyone. It is delivered to you as a file on a flash drive for you to either keep or share as you wish. The interviewer can even leave the room and the file does not even need to be edited if this is your wish. Please ask for that service at the time of booking.
Please remember you can email me anytime with your questions
michael@thelifelogproject.com.au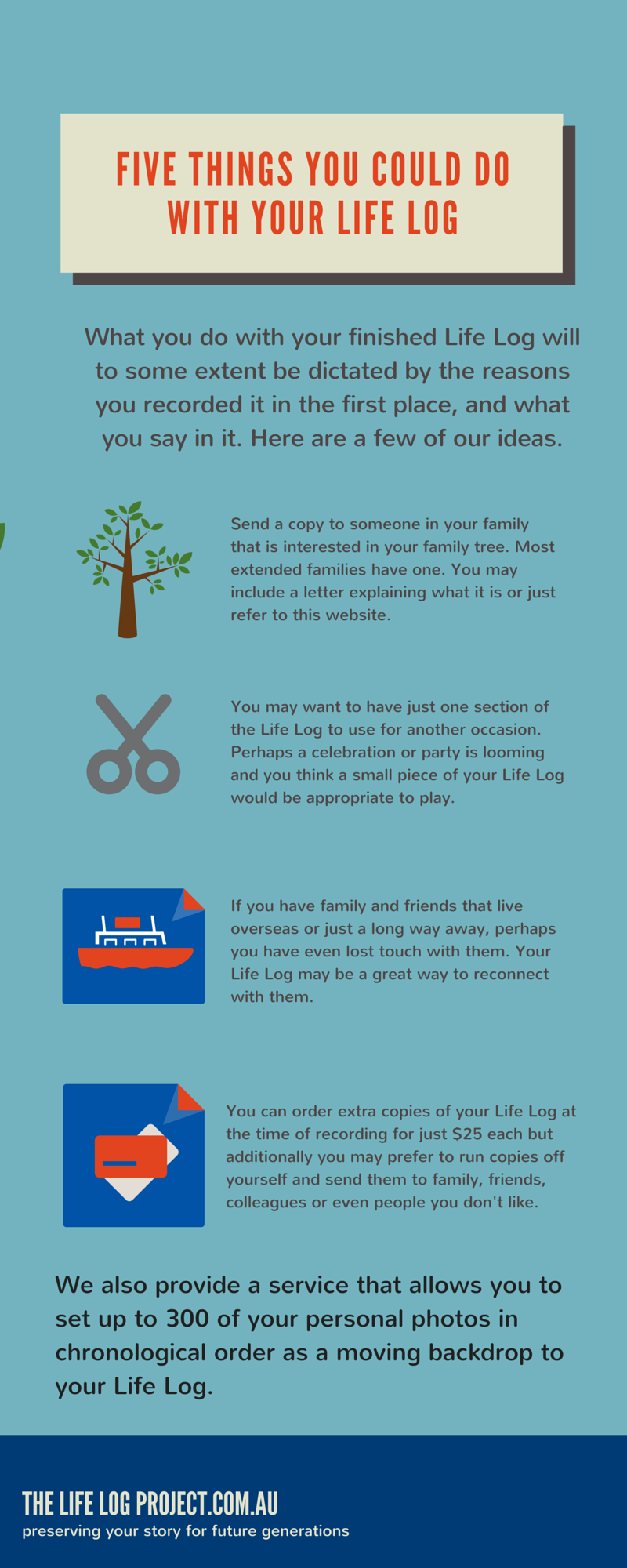 Life Log
Chief Curator Michael Beaumont MBA
P.o. Box 416 Alexandria NSW 2015
Mob 0478 692 896
beaumont.michael@gmail.com
Life Log
We operate 7 days a week and most nights. Fill in the contact form above or feel free to call0478 692 896 for more information. Currently we are only operating in NSW but we have plans for other states.